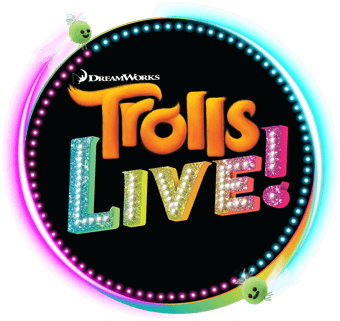 Trolls LIVE! | Frequently Asked Questions
Don't see your question answered below? Contact us and we will be happy to assist!
When will Trolls LIVE! be near me?

Check out our tour plan on the 'Cities & Dates' page and find the city closest to you. Can't find a show near you? New dates are being added all the time, so be sure to continue to check for updates or sign up for our mailing list to receive tour announcements for your area.

Accessibility Information

We believe in making Trolls LIVE! an enjoyable experience for all families. To assist in making your Trolls LIVE! experience the best it can be, here is some information about our show.
ADA Seating: ADA seating is available at all performances – including VIP. For assistance purchasing ADA seating, please contact your local venue's box office.
Lights: Trolls LIVE! features theatrical lighting that may shine into the audience. Sensory Provisions: Please reach out to your local venue to learn about their accommodations. Sound: Trolls LIVE! has a sound level of 90dB with the occasional peak at 100dB. Special Effects: There is a confetti cannon used in the finale of each performance.

Please contact your local venue to learn more about their specific services.

How can I become a performer in Trolls LIVE!?

Should I buy my tickets ahead of time?

We strongly encourage you to purchase tickets in advance to ensure the availability of the seats in the location or price level you want. However, as long as they are available, seats remain on sale until performance time.

Yes, we wouldn't want you to miss the opportunity to capture this special moment in a child's life! However, professional photography and videotaping are strictly prohibited without prior written consent from VStar Entertainment Group. Even if your camera gear just appears professional, you may be asked to take it out of the performance space.

Many of the venues we visit have their own camera policies, which their staff members must enforce. We recommend checking your local venue's policy, too, just to be sure!

Who do I contact if I have any other questions about Trolls LIVE?

You may contact us directly by email at Talk@VStarEntertainment.com.

Phone: Monday – Friday 9 am – 4 pm
Central Time 763-324-7889

VStar Entertainment
44 Northern Stacks Dr
Suite 200
Minneapolis, MN 55421

Is there a discount code?

We offer discounted tickets for active and retired members of the U.S Military including the National Guard, Reservists and the U.S Coast Guard. We also offer a discount for first responders including police officers, firefighters, EMT & paramedics.

This discount is only available at the box office. Must show ID. Excludes Gold Circle & VIP Tickets.

For other discounts sign up for our email list for updates on any upcoming exclusive offers.

Do you offer any special ticket pricing for large groups?

Yes. You can obtain additional information by contacting your local venue.

How early should I arrive?

Doors open one hour prior to showtime. Allow ample time for traffic, parking delays, and entrance to the venue. Once you arrive, you may want to take your child to the restroom and get refreshments in order to be seated and ready by show time.

How much do tickets cost?

Ticket prices vary depending on availability in your city and the seat location in the theater. It's best to check current ticket prices by selecting your city on our Tickets Page.


For assistance with ticket prices in your city contact your local venue's box office or VStar Customer Service at talk@vstarentertainment.com

How do I buy V.I.P. Tickets?

V.I.P. Tickets are located in the first few rows of each venue. Tickets will be labeled "V.I.P." or "P1".

On Ticketmaster: You can find V.I.P. by selecting them on the seat map or filtering for "Best Seats" during the seat selection process. Be sure your filter is set to include VIP tickets. If you're experiencing issues with the Ticketmaster System, we recommend contacting their customer service line at 1 (800) 653-8000




Other ticketing systems: V.I.P. seats are most easily found by selecting seats on the seat map. For assistance, please contact your local venue's box office.

For other assistance contact VStar Entertainment at talk@vstarentertainment.com

**Please note the V.I.P. Meet & Greet cannot be purchased separately or added to previously purchased tickets.

How do I receive a password to purchase presale tickets?

In order to receive a presale password, you must be registered for our mailing list. To sign up, visit this page.

Is my child old enough to see Trolls LIVE?

The specific appropriate age range for children is 4 to 11 but, as a live stage experience, Trolls LIVE! is shared and enjoyed by the entire family. We love seeing children and their parents and grandparents all coming together to enjoy our productions.

What is your photo consent policy?

The Trolls LIVE! event you attend may be professionally photographed, videotaped and recorded.

By attending, you agree that the event for which you purchase tickets is a public event, that your appearance and actions inside and outside the venue where the event occurs are public in nature, and that you have no expectation of privacy with regard to your actions or conduct at the event. You grant permission to us to utilize your name, image, likeness, acts, poses, plays, appearance, movements, and statements in any live or recorded audio, video, or photographic display or other transmission, exhibition, publication or reproduction made of, or at, the event (regardless of whether before, during or after play or performance) for any purpose, in any manner, in any medium or context now known or hereafter developed, without further authorization from, or compensation to, you or anyone acting on your behalf.

How and where can I purchase tickets?

Check out our 'Cities& Dates' page for a full list of shows scheduled. Once you find a show in your area, click on "Buy Tickets" for all the specific information you need to order tickets. You may also contact the venue listed for your city for more information.

Be sure you purchase tickets only from the links on trollslive.com, or through your local venue's website. Secondhand distributors are NOT official ticketing sites. Tickets purchased through these re-sellers and non-official ticketing sites may not be valid. If you have questions, call your local venue's box office. VStar Entertainment Group is not able to address or resolve any issues related to "secondary" or re-sale transactions and/or tickets.

Phone: Tickets are available over the phone by calling your local theater's box office. In Person: Save on ticketing fees by purchasing in person! Tickets are available for purchase the venue box office. Please check your local venue for operating hours.

Can I refund or exchange my tickets?

Tickets are non-transferable and non-refundable. If a cancellation were to occur, it will be posted to our social media pages with details on exchanges or refunds.

We are not able to refund your tickets if you forgot about and missed your chosen performance, so please be sure to keep track of the date and time you plan to attend the show.

Can the characters from Trolls LIVE! make an appearance at my special event?

We're happy to hear you want Trolls LIVE! to be a part of your event. Unfortunately, due to touring schedules and our licensing agreement Trolls LIVE! characters cannot make private appearances.

At what age do I need to purchase a ticket for my child?

Everybody who has reached their first birthday requires a ticket. Please note, public event laws vary nationwide from county to county and some venues may require all patrons, regardless of age, to have a ticket. Please contact your local venue to confirm their specific policy.

What is the V.I.P. Package?

Join the Trolls LIVE! VIP Party! The VIP Package perks includes:
• Premium main floor seating in one of the first few rows (first row reserved for Diamond VIP Package)
• Meet and Greet opportunity with Poppy and Branch
• VIP merchandise item and souvenir lanyard
• Sing-a-longs, exclusive photo ops and more!

Enjoy the Upgrade to the Diamond VIP Package* upgrade which includes:
• All the VIP Package perks
• Upgraded front row seating
• Exclusive glitter tote bag

*Available in select cities only.

What can I expect at a Trolls LIVE! show?

Trolls LIVE! provides a unique entertainment opportunity for you and your child where they can see some of their favorite characters live. As one of your child's first theatrical performances, it marks the beginning of a lifelong journey of enjoying and learning through live performance. Here are a few things to remember as you plan your visit.

Most children are familiar with entertainment that happens on television and computer monitors. Explain that this will be different, because there will be a story happening live in front of them. The story doesn't stop if you leave the room, but there will be a break in the middle.

What characters are in the show?

Who is VStar Entertainment?

VStar Entertainment Group is a leading entertainment company and producer of unforgettable live experiences for audiences in the U.S. and internationally. From concept through activation, we imagine and create custom tours featuring original content, and licensed, branded tours that provide highly engaging entertainment for fans of all ages.