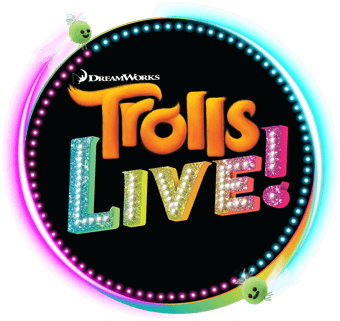 Tennessee Performing Arts Center
Show Details
Tennessee Performing Arts Center
Due to the COVID-19 pandemic, Trolls LIVE!, originally scheduled for June 27-28, 2020, at TPAC's Jackson Hall has been rescheduled for May 22-23, 2021 at the same venue. Tickets will be reissued for the new dates below by the TPAC Box Office in the coming months.

Saturday, May 22, 2021 at 10:00 a.m. (originally scheduled for Sat June 27, 2020 at 10:00 a.m.)
Saturday, May 22, 2021 at 2:30 p.m. (originally scheduled for Sat June 27, 2020 at 2:30 p.m.)
Sunday, May 23, 2021 at 12:00 p.m. (originally scheduled for Sun June 28, 2020 at 12:00 p.m.)
Sunday, May 23, 2021 at 4:00 p.m. (originally scheduled for Sun June 28, 2020 at 4:00 p.m.)

Please log in to your TPAC.ORG account using kyandow@tpac.org to let us know how you'd like to proceed:

Hold on to your tickets and attend the the new date

Donate the value to the TPAC Forward! Recovery Fund

Transfer the value to a gift certificate that can be used for TPAC events


Receive a refund
The survey closes June 28, 2020. Requests submitted after this date, other than to retain tickets, are not guaranteed and must be approved by the tour.
Note: Refund requests are only available for tickets purchased directly through the Tennessee Performing Arts Center Box Office. Refund requests will be processed in the next 10 business days to the original credit card used for the purchase. If the original card is expired, we will issue a check refund to the address on file within 21 business days. We appreciate your patience as the process may take some time.
Monday - Friday: 10 AM – 5 PM

The TPAC Box Office is located at 505 Deaderick Street, Nashville, TN 37243.

Parking is available at the Nashville City Center 6th Ave garage.
About the VIP Experience
Come join Poppy and Branch in the Trolls LIVE! VIP Party. The VIP Party will be filled with rockin' sing-a-longs and best of all – a Meet & Greet photo opportunity with your favorite hosts, Poppy and Branch! Trolls LIVE! VIPs will also receive premium seating, a souvenir lanyard and more. Each adult & child (aged 1 & up) must have a VIP ticket.
Upgrade your VIP experience with the Diamond VIP Package! In addition to all of the VIP Package perks, you'll be upgraded to front row seating and receive an exclusive glitter tote bag! Each adult & child (aged 1 & up) must have a VIP ticket.