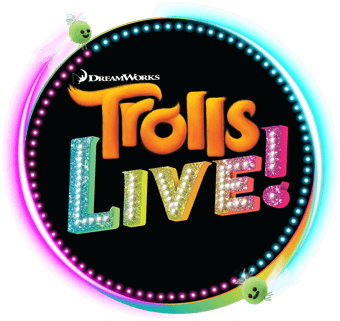 Meridian Hall (formerly known as the Sony Centre)
Show Details
Meridian Hall (formerly known as the Sony Centre)
Sign up for Trolls Hair Mail to receive updates!
The St. Lawrence Centre Box Office is open Monday – Friday, 12 PM - 6 PM

Parking is located at Brookfield Place at 181 Bay St. Additional public parking lots are available on Scott Street, and on the Esplanade. Limited metered street parking is available on surrounding streets.

Friday, April 3, at 6:30 PM

Saturday, April 4, at 10 AM, 2:30 PM, and 6:30 PM

Sunday, April 5, at 10 AM and 2:30 PM
About the VIP Experience
Come join Poppy and Branch in the Trolls LIVE! VIP Party. The VIP Party will be filled with rockin' sing-a-longs and best of all – a Meet & Greet photo opportunity with your favorite hosts, Poppy and Branch! Trolls LIVE! VIPs will also receive premium seating, a souvenir lanyard and more. Each adult & child (aged 1 & up) must have a VIP ticket.
Upgrade your VIP experience with the Diamond VIP Package! In addition to all of the VIP Package perks, you'll be upgraded to front row seating and receive an exclusive glitter tote bag! Each adult & child (aged 1 & up) must have a VIP ticket.