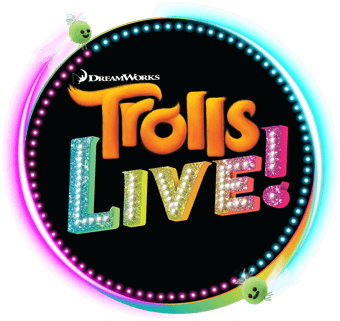 Monday – Friday:
Event Days: 10:00 AM – 1/2 hour after event start
Non-Event Days: 10:00 AM – 5:00 PM

Saturday & Sunday:
Event Days: 12:00 PM – 1/2 hour after event start
Non-Event Days: Closed

Payment methods accepted: Cash, American Express, Mastercard, Visa and Discover. Must show a valid photo I.D.for credit card purchases.

The Box Office is located at 1001 Truxtun Avenue, at the northeast corner of Mechanics Bank Arena, across from the Bakersfield Condors main office. The box office does not accept phone calls, however, for general event information please call 661-852-7777.

Parking for Mechanics Bank Arena, Theater and Convention Center is located off of N Street between Truxtun Avenue and California Avenue.
About the VIP Experience
Come join Poppy and Branch in the Trolls LIVE! VIP Party. The VIP Party will be filled with rockin' sing-a-longs and best of all – a Meet & Greet photo opportunity with your favorite hosts, Poppy and Branch! Trolls LIVE! VIPs will also receive premium seating, a souvenir lanyard and more. Each adult & child (aged 1 & up) must have a VIP ticket.